IPPF Statement CPD56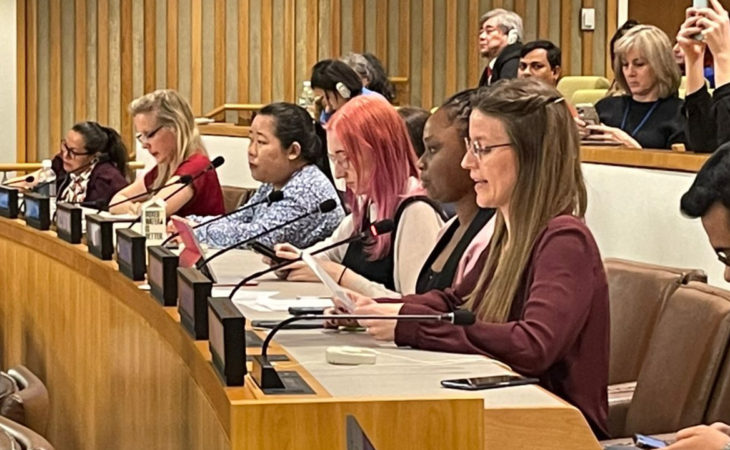 Liv i Dali fra Sex og Samfund i Danmark holdt innlegget på vegne av IPPF.
I deliver this statement on behalf of the International Planned Parenthood Federation, a locally owned, globally connected Federation with partners in almost 150 countries.
Honourable Chair, esteemed delegates, and fellow advocates,
The right to education is a basic and fundamental human right. Education has a transformative potential to support the empowerment of all women and is a key pathway for women and girl's bodily autonomy.
Educated women are more likely to make informed decisions about their lives, to have access to decent work, use contraception and access healthcare; as well as to understand and fulfil their rights. In all regions of the world, we still see people being denied access to education.
Access to education, or lack thereof, is not gender neutral. Often girls and adolescent girls face gendered and age-specific barriers that prevent them from participating in schooling and other educational opportunities.
Too often, young women, adolescents and girls do not have a say in decisions that affect their lives. Discriminatory social norms and attitudes towards girls and young women underlie and drive these gendered inequalities. Comprehensive sexuality education is a vital preventative health and education strategy by which to shift negative norms and attitudes, prevent gender-based violence, and empower young people to negotiate safe, consensual, healthy choices about relationships and sexuality.
Most countries of the world have some form of evidence-based comprehensive sexuality education, demonstrating shared common values on this issue and global support. Sexual and reproductive health policies should be combined with educational policies to ensure access to youth-friendly comprehensive services and education.
It is critical that attention is given to the most marginalised adolescents and girls; those who are already structurally excluded, those who face multiple and intersecting forms of discrimination. Rural adolescents and girls. Disabled young people. Indigenous adolescents. Because reaching those who are most left behind is critical to ensuring the human rights of all young people are fulfilled. Access to quality education and comprehensive sexuality education is fundamental to achieving gender equality and the empowerment of all women and girls.
Thank you.